Reading time: 4 minutes
Eyelash Extensions in central London? If you`re in the search for a salon to get your lashes done, keep on reading…
We know that women`s who live in central London are some of the busiest women in the world…
And if you are looking for eyelash extensions and you live in London…
Than we may have the perfect solution for you… 😘
We know that time equals money…
Which is why we want you to spend it wisely…
Whether you're an entrepreneur or a woman with a simple office job…
You can save a lot of get-ready-time by getting eyelash extensions.
At Agnes dos Santos salons in central London we are exceptional…
Our lash experts team are highly-skilled, and they consistently make perfect-looking eyelash extensions.
Let us help to make your Lashes look perfect ⤵
👉 Book your FREE lash consultation today
Eyelash Extensions In Central London
Lets talk a little bit about what are Eyelash Extensions?
Well, this is the magic of fuller and long lashes…
They are fake lashes created to boost the length and the volume of the natural lashes.
Some brands offer eyelash extensions that are made from mink, silk and even horse hair.
Cruelty Free Lashes
At Agnes dos Santos we only offer Cruelty Free Lashes.
However, it's best to stick to synthetic eyelash extensions…
Because we don't want any animals to get harmed in any way.
Synthetic eyelash extensions are a great option because they're very durable.
Individual Eyelash extensions are not the same as fake lashes.
Individual Eyelash Extensions in Central London?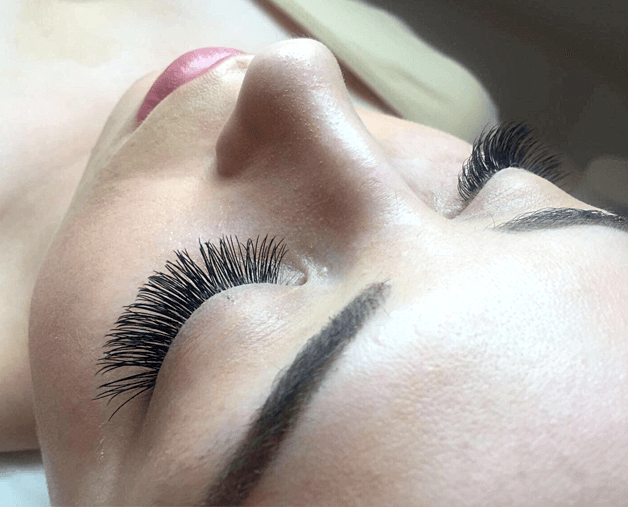 The individual lash extensions are placed one by one on your natural lashes.
False lashes are a full set of strip lashes that are applied to your eyelid with an adhesive.
It's easier to create a more natural look with eyelash extensions…
But, they're not only made and used for that…
You can also pick some classic lashes or dramatic lashes looks as well…
NOTE:
If you are looking for Lash Extensions in Central London, and not sure…
We do offer free advice, so chat with our team via WhatsApp 👉 HERE
What's The Process of Applying Eyelash Extensions?
Our certified lash stylists have been trained to perform the eyelash extensions…
The procedure happens in a relaxing atmosphere in our London Lash Salons.
They know that they're dealing with some of the most sensitive parts of our face, our eyes, so they're cautious.
The procedure itself is pretty simple…
Individual Eyelash Extensions
They place each extensions individually, which is why the process will take more than an hour.
Each eyelash extension is attached to the natural lash…
And not the eyelid itself…
The adhesive that the professional uses dries after ten seconds, which means that they will be working with your eyelids non-stop.
However, if you need a quick break just let them know.
Where To Get Eyelash Extensions In Central London?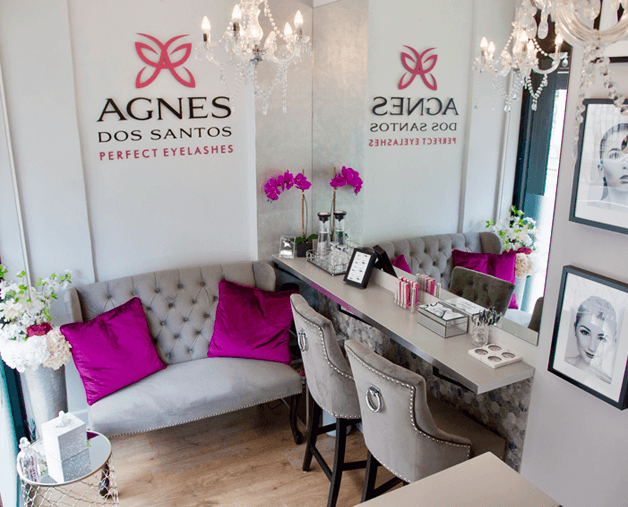 At Agnes dos Santos we are specialized in eyelash extensions!
Finding a salon that offers eyelash extensions in central London is not that difficult.
However, it might be intimidating to start searching…
Especially if you've never heard of these salons before.
Internet is always a great source to turn to…
Eyelash Extensions in Central London
Simply googling which salons are best and closest to you will be a quick way of finding the right one.
Not only will you find a massive list of beauty salons, but you will see the lash reviews of those places as well.
Make sure you stick to the one that suits your budget and your preference the best.
If you need professional tips, do not hesitate in contacting our lash experts team…
NOTE:
At Agnes dos Santos we do offer FREE lash consultation, check it 👉 HERE
How Long Will The Eyelash Extensions Last?
Eyelash extensions last as long as your natural lashes last, because of attachement to your natural ones, will fall out at the same time.
Natural lashes have a eyelash growth circle of six to eight weeks.
However, we don't recommend that you wait that long before coming back to the salon.
Booking a touch-up eyelashes infill appointment every three to four weeks…
It is a great way to maintain a set of perfect eyelashes.
Are You Ready to Get Your Lash Extensions in London?
You can always get free advice from our lash experts team…
Just give us a call us at 02076027040 or chat with us via WhatsApp on 07817147389.
Also you`re more than welcome to visit us at our Eyelash Extensions London Salon in Kensington.
We truly hope this lash tutorial helped you to undestand more about eyelash extensions…
P.S. We will always make sure that you get your lash extensions looking perfect, and our lash stylists are there for help you… 😍
P.S. Dont forget to check it out this FREE Lash Extensions in London Guide, this is a free advice from our lash experts… 😘