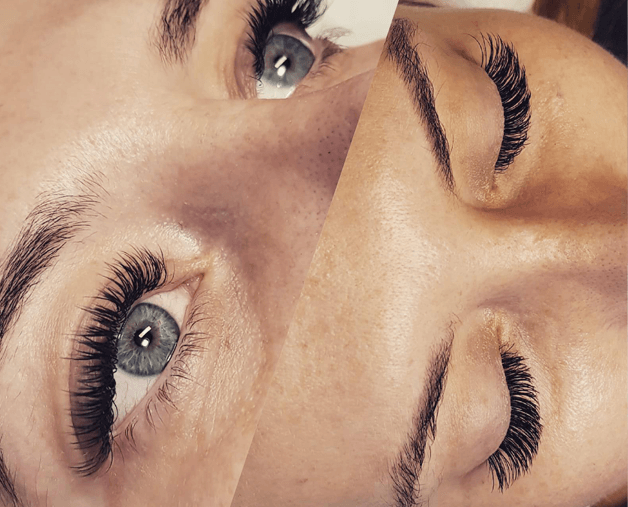 Is It Worth Getting Eyelash Extensions?
You are probably looking to get your lash extensions done. If so keep on reading because on this articles I'll show you if is it worth getting eyelash extensions.
First thing's first. Lets talk about what are individual eyelashes.
What are Individual Lash Extensions?
These are fake "sythetic" lashes that are applied on your natural lashes. They are attached to the base of each of your natural lashes with surgical grade glue.
Agnes dos Santos Lash Experts Salon in London says "Each fake lashes is applied one by one. It's a painfree procedure and a full set application can take from 90 to 180 minutes".
Not that you understand the little bit what is eyelash extensions, let's talk about the maintenance.
Lash Extensions Infills
If you take care of your eyelash extensions, than you need to do the topup every 3 to 4 weeks. Taking care of your lash extensions is a big deal.
These topups or eyelash infills are the maintenance that you need to do in order to keep your eyelash extensions looking longer and fuller all the time.
NOTE:
Subsequent appointments after your initial application is mandatory for maintenance. How often you need a Lash Infill will depends on your own natural eyelash growth cycle and on how well you take care of your eyelash extensions.
Book a Free Lash Consultation
There are no many places where you can book a free lash consultation. In that's why we recommend agnes dos Santos lash expect salon in London, because they are one one-off a feel eyelash extension salon where you can book a free lash on station.
Look what some clients are saying about Agnes dos Santos Lash Experts Salon in London: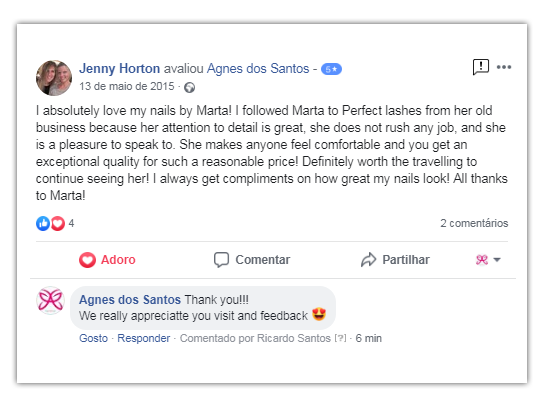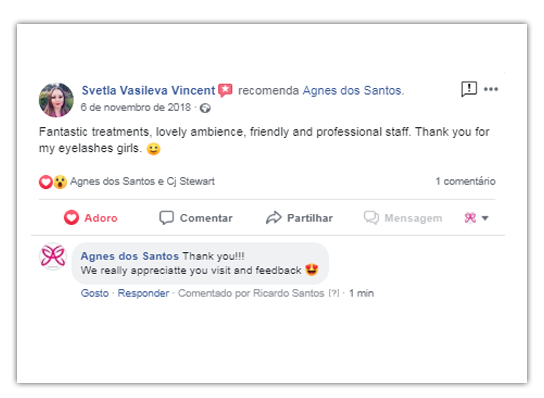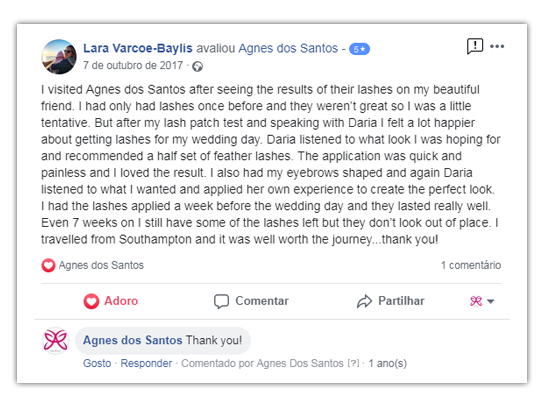 For more information about Lash Extensions you can chat will out Lash Experts Team on WhatsApp (click on link).
Or if you preffer just give us a call us at 02076027040 or book a Free Lash Consultation Online (click on link)
If you decide to give a try and book your free lash consultation you need to follow these 2 simple steps:
Step 1) Research your Lash professional.
It's best if your lash technician is professionally certified and trained in an established method of application.
(The team at Agnes dos Santos Lash Experts Salon in London in are professionally certified and trained).
Don't be embarrassed to ask about the credentials; the best lash technicians will be proud to show you their certificate and portifolios.
Step 2) Choose your look carefully.
Just the way you choose a hairstyle by looking at pictures. Most eyelash technicians will walk you through this. (that is why Agnes dos Santos offer a free lash consultation).
There are are a lot of different looks and designs that you can choose from. They vary from natural looking through dramatic looking.
And during the Flash and station you will be advising on the best design that suits your own natural lashes.
Step 3) Understand the aplication process.
Applying a full set of new lash extensions can take anywhere from 90 to 180 minutes. Depending on the look or design that you want to achieve.
There will be applied anywhere from 60 to 120 individual lashes fake lashes on to yout natural lashes. It is a pain free process, always is done with your eye closed and lying back on a bed.
To prepare the eye area for extensions, your lash technician should be taping your lower lashes down to your skin, and placing hydrating eye pads on top.
This is done to prevent the glue from getting on the lower part of your eye as lashes are applied.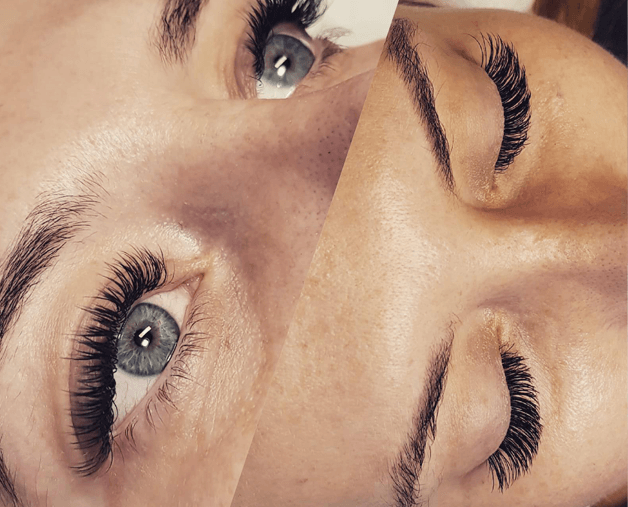 Is It Worth Getting Eyelash Extensions?
On this part you will learn the Pros and Cons of getting eyelash extensions:
As with any beauty treatment, there are pros and cons to consider before deciding if eyelah extensions it's right for you.
With eyelash extensions, the positives and negatives are almost equally weighted, though you'll rarely hear the downside in a salon that provides this service.
This is what you need to know befpre you make a decision:
The PROS of Eyelash Exensions
They look fabulous. More dramatic than mascara, yet far more natural than a strip of false eyelashes, Eyelash Extensions are simply stunning when done right.
They're instantly gratifying. Lash extensions deliver the gorgeous lashes you want with one appointment, and you won't have to bother applying and removing mascara every day, or worry about mascara flaking, running, or smearing.
They can save you time. Some people say that because lash extensions look just as good if you aren't wearing makeup, you can forego this time-consuming step in the morning.
We're not convinced about this as you still have to find the time twice a month to get the extensions filled in, so it more or less evens out.
They can last for months and beyond.
Typically, lash extensions stay looking good for 2 to 3 weeks, but beyond that, all of them will gradually fall out on their own. However, with regular fills, your overall lash extensions will last indefinitely.
The CONS of Eyelash Extensions
They're a little bit expensive. Expect to spend anywhere from 100 to 200 for your first full set of lashes. And the maintenance or lash infills is needed every 3 to 4 weeks and cost is around 70 per visit.
Your lashes will need extra attention to look good between infills because preserving these expensive additions to your eyes should be the goal.
Do not use oil-based cleansers and makeup removers as they cause the glue to breakdown.
Avoid using mascara over them because removing it can snag the extensions, causing them to fall out prematurely.
You must be careful when washing your eye area as any movement of your lashes will increase the lash falling out or getting twisted around.
Do not let water from the shower fall directly on your face as the pressure will make the lash extension loosen and shed faster.
Do not rub your face with a towel or press your face too hard into the pillow when you sleep.
NOTE:
Use a dry mascara wand (your lash technician will give you one) at least once a day in the morning or several times during the day, as needed, to comb through your lashes and gently straighten them out, especially if they get wet.
Conclusion:
Definitely lash extensions is not for everyone. It really comes down to your budget, time allotment, and compliance with the guidelines as these aren't easy to maintain.
But if you follow Agnes dos Santos lash experts advice, this will help increase your chances of getting great results.
Remember that you can always chat with our Lash Experts Team on WhatsApp (Click on Link)
Or if you preffer just give us a call us at 02076027040 or book a Free Lash Consultation Online (Click on link)
Also you`re more than welcome to visit one our Lash Extensions Salon in London at 46 Blythe Road, W14 0HA, London.
Hope you enjoy it this article where do you learn if "Is It Worth Getting Eyelash Extensions?"
Agnes dos Santos
Author, entrepreneur, trained accountant and self-confessed eyelash extension perfectionist. Certified Master technician, judge and as a qualified international trainer, Agnes has coached many technicians globaly.